"Form follows function"
the creed of the modern style
As the Arts and Crafts style and its concern with the comfort, form, and functionality of the home evolved, it naturally developed into the Modern style philosophy of austerity, efficiency and systems development.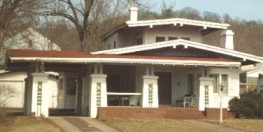 The conscious lack of applied ornamentation as was used in the period styles and the clean, low profile of the Frank Lloyd Wright Prairie style was the herald of the form and function mentality.
As with most architecture the Modern style started as an avante-garde movement replete with morals, philosophy and aesthetics that rejected historical styles. These architectural pioneers sought to develop a post war style appropriate for the needs of the middle and working classes.
The Modernist architect based beauty on the inherent properties of the material and the exposition of the structural form. Removing historical references and ornamentation allowed them to exposes this beauty with what they considered as the purity of the style -FORM.As the suburbs continued to expand and the need for affordable housing continued to grow it seemed most acceptable that the less ornamentation and the faster the building process equaled the lowest cost.
The 1944 G. I. Bill of Rights made home ownership affordable for many veterans. Affordable automobiles and a desire for single family homes led to the rise of suburbs. The Modern style and its variations such as the 'Ranch' and the 'Split Level' were extremely popular in the new neighborhoods.
The Modernist emphasizes function by designing for specific needs. Its simplification of form and its abstract ornamentation are melded with new materials and technologies.

After World War II the Modern style became the dominant architectural style for institutional and corporate building.
The principle style developments are
skyscrapers,
Art Deco,
Art Moderne,
and the International or Bauhause.
________________________________________


We are connected to a tradition of creativity and innovation that points us toward the future.
Look to the future for inspiration
________________________________________



All About Skyscrapers.com


To Top of Page


From Modern style to American Architecture