The Art Modern style
1930-1945

Following Art Deco, Art Modern was influenced by Deco's 'streamlining' stylistic ideas.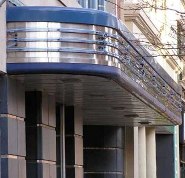 Although both share geometric based design, curved corners and smooth surfaces, Art Modern is a horizontal orientation and Art Deco a vertical orientation.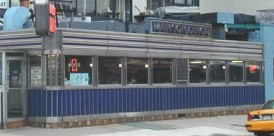 A distinctive effect of Art Modern style is its use of curved window glass that wraps around corners.
Common Modern characteristics include:
• Rounded edges and curved corners
• Corner windows quite often with glass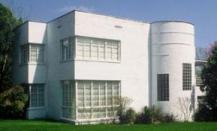 • Mirrored panels and other decorative mirror effects
• Ribbon windows with metal frames. Usually no trim other than a small 3/4" radius that rolls into the metal framing.
• One or two stories
• Flat roof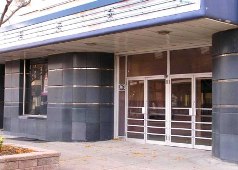 • Curved canopy such as the movie theater canopy but also in residential homes the canopy may extend over the entry door or be an extension of the flat roof line.
• Smooth wall finish often with horizontal accenting similar to a belt course.
• Aluminum and stainless steel often are used for door and window trim, railings and balusters
• Glass block walls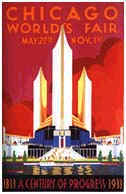 Premiering at the Chicago's Century of Progress World's Fair in 1933-34, The public loved the Art Modern style.
The "World of Tomorrow" showcased the cars, kitchens and cities of the future. Weary of the depression people had their spirits lifted and their optimism rekindle by seeing the innovations of the future.
Steamlining was the innovative concept that was needed to boost the determination of the people. But as the future began WWII started and the world had to turn its attention elsewhere.
> By the war's end, Art Modern gradually fell to the shadows as the International Style became dominant.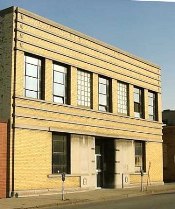 While the great Art Deco skyscrapers are well maintained the reverse is usually the case with Art Modern. Time has worn hard on most Art Modern buildings.
Many buildings are in declining neighborhoods, lack maintenance and are all but forgotten.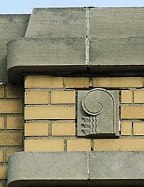 From Art Modern to American Architecture