The Richardsonian Romanesque period
1870-1895
Named for Henry Hobson Richardson, the castle-like Richardsonian Romanesque style is characterized by massive stone walls and dramatic semicircular arches.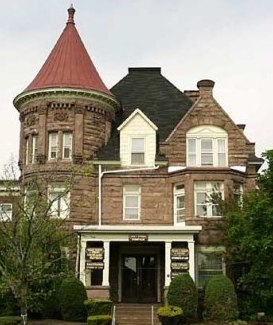 This style preceded both the 2nd Empire style and the Gothic styles and like Queen Anne houses, Romanesque homes often have round towers and large porches and usually round Roman arches at the entry or over the windows.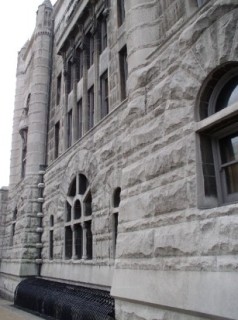 The Romanesque Revival style was built throughout the entire country in the second half of the 19th century for a wide variety of building types. Public buildings, such as railroad stations, schools, civic buildings, and factories used the style far more than personal dwellings.
Evangelical churches particularly drew upon the Romanesque style for building as it was considered less ostentatious than the Gothic style. To some it was considered a picturesque novelty. The Romanesque Revival was an enthusiastic style common in Chicago.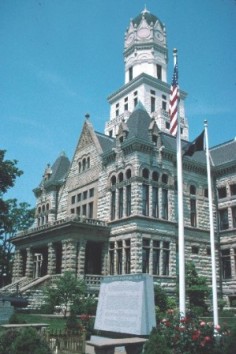 ________________________________________
Style Definition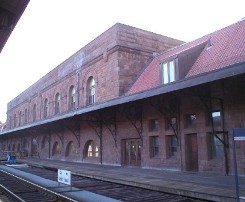 The Romanesque is a revival of an early medieval style, which was in turn a revival of Roman architecture. Building proportions in this style are large and emphasized not only by the stone construction but also by deep window reveals, large and deep door openings and bands of windows. These proportions were often contrasted further by the color or texture of the stone, columns and in the size of the details.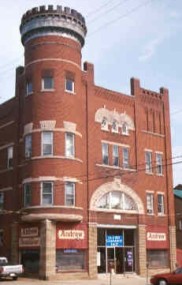 One of the most popular forms of architecture in the United States during the 1880s, it was the first style applied to tall buildings. Many courthouses and public buildings were built in Romanesque, even in small rural towns.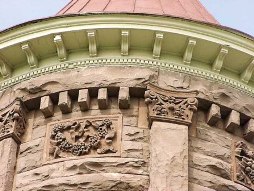 Distinguishing features include turrets, rounded arches, hipped or pointed roofs, and very heavy rusticated stonework. One of the best examples of public structure is the Smithsonian Institution building (1847-1855).
Richardson's style is characterized by the following:

Round arches over windows and/or entryways

Thick masonry walls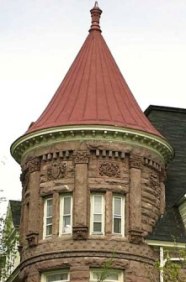 Rounded towers with conical roof

Facades are asymmetrical

Variable stone and brick façade

Eyebrow dormers and carved, intertwining floral details

Towers were often part of the design. In the best examples, a single massive tower

Dramatic semicircular arches

Deep windows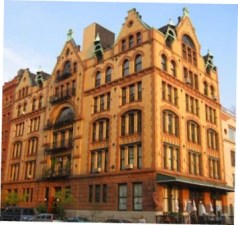 Large, deep recessed door openings

Bands of windows

Contrasting color or texture of stone

Short columns
Numerous masonry row houses still exist to pay tribute to Richardson's creativity and immense popularity. from Richardsonian Romanesque to Victorian From Richardsonian Romanesque to American Architecture